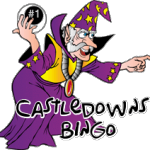 One of Edmonton's most popular local bingo halls, Castledowns bingo is popular for many reasons: the staff is among the best in the city, the drinks are just above freezing, BINGO is incredible with some of the largest pots in town, VLT's galore and voted one of the best halls in Edmonton!
Castledowns bingo specials
Double Action Play off $3000 in 38 play off Oct 18 Afternoon.
Anniversary Special October 25 & 26
Bonanza Payouts 
Afternoon
Full Card $2500
Consolation $500
Total Payout $3000
Bonanza Payouts
Evening
Full Card $3500
Consolation $500
Total Payout $4000
Bonanza Payouts
Late Night
Full Card $1500
Consolation $500
Total Payout $2000
Anniversary Bonanza Specail will be played on the Pick 4 Progressive wheras the Progressive contribution and requirement to win will be as per Approved Rules of Play. The Event Prize - Full Card and Consolation will be guaranteed as stated above. All Prizes split equally if multiple winners. 45 Number Pre-call
Castledowns bingo line up
At Castledowns Bingo. We have our touch of magic!!! Find out below what is happening at our weekly line up?
If your need to reach us, give us a call
12222-137 Ave NW, EDMONTON AB
Copyright © 2018 Castledowns Bingo